The eye, the visual sense and the sense of smell and of taste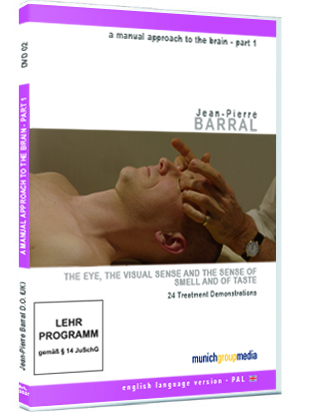 77 minutes in english
&

language

24 Treatment Demonstrations

The second DVD of the three DVDs "A Manual Approach to the Brain - Part 1" has its focus on manual techniques. It is about the treatment of disorders of the different senses and their connections to the brain. At first the anatomical basis is explained. Most important are the details of arterial and venous supply and the related nerves. Each treatment technique applied to vessels and nerves is introduced and made understood by using anatomical drawings, made by Barral himself.

In this DVD you will find the same approach for the more comprehensive treatments of the senses and their connections to the brain.

It is about efficient treatment of dysfunctions of the eye, the sense of smell and the sense of taste. At the set we have paid attention to the way how the camera was used during filming, to make sure, that all the important details of Barrals techniques can be seen clearly and well understood.
Watch the trailer
---
---