The spenoid, the limbic system and the ventricular system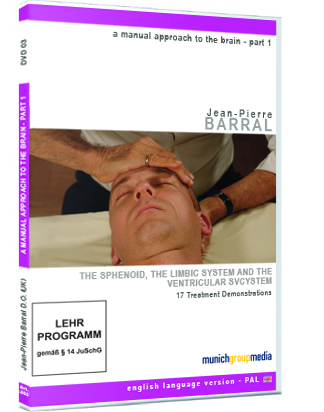 84 minutes in english
&

language

17 Treatment Demonstrations

The third DVD of "A Manual Approach to the Brain - Part 1"-series gives a detailed introduction into the limbic system and the system of the ventricles. Barral describes the role of the sphenoid bone as a crosslink of many structures. He clearly describes and discusses the components of the TMJ, the whole masticatory apparatus and its connections to the deep layers of the craniosacral system.

He explains and demonstrates the various practical – techniques for:
the neural and the vascular connections
the muscular and the fascial elements of the temporomandibular joint
the manual treatment of the brain after stress situations
the treatment of the motor cortex
Also this DVD has been developed within the context of practice for practice.
Watch the trailer
---
---